The color used to highlight the rising effect on a custom shaped flat button.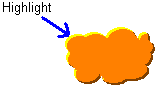 If you leave this property undefined (-1), the control will be able to calculate the optimal highlight color in relation to the current surface color.
For further details about colors change, see the How to change the button colors section.